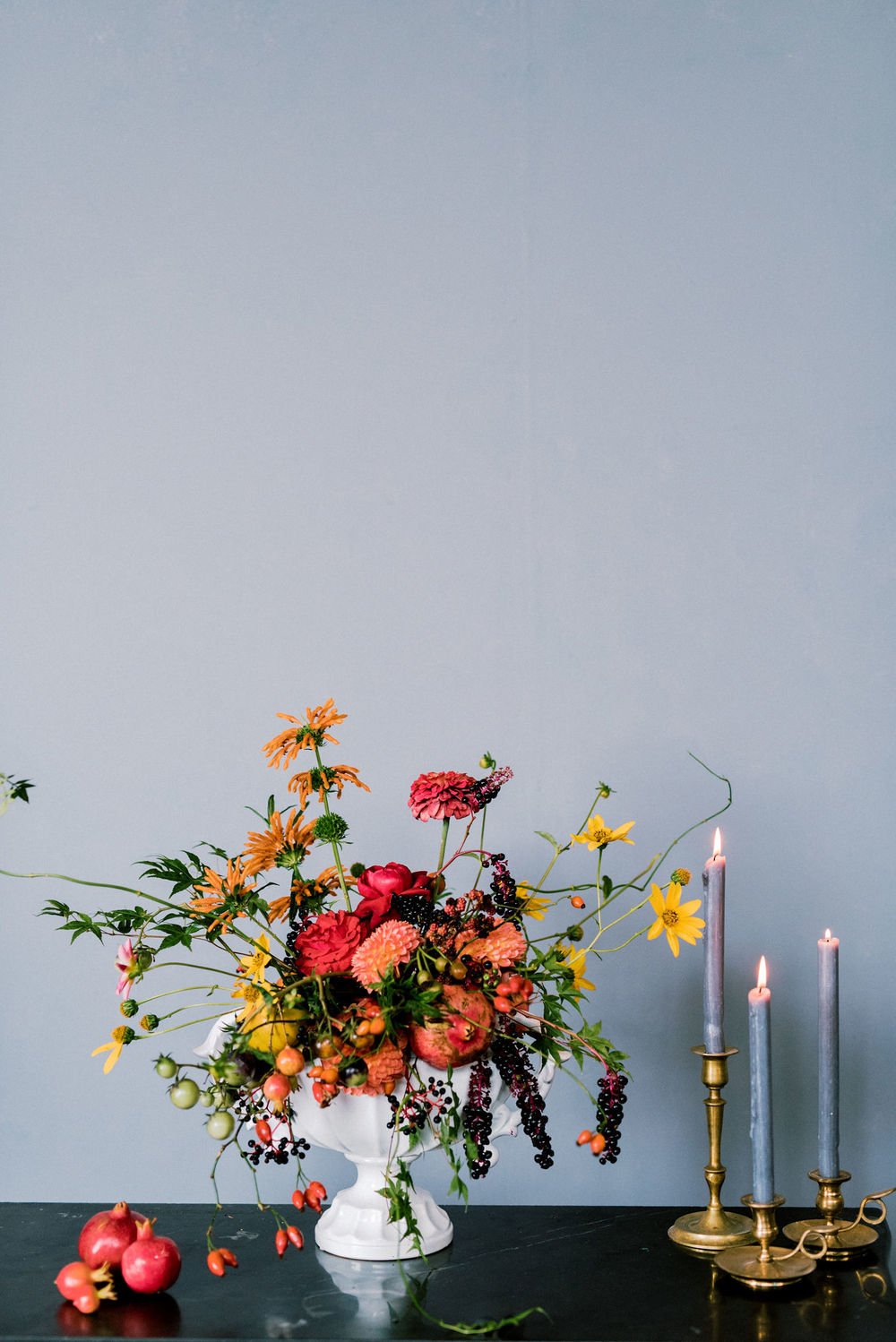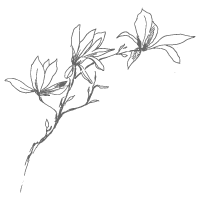 As seen on Wedding Chicks
Nine centerpieces and two bouquets that become an indulgence for the senses; a scene set for the festive season; a team that sketches the lines of an enchanted dream laced with evanescent petals and dream-like objects.
The Bloom Menagerie is a visual memory-play kind of inspiration that oscillates between shades and contrasts: Hypnotic floral textures that meld with chiaroscuro painterly accents, architecturally crafted vases and flower urns paired to contemporary art de la table and paper, fine linens, and decorative cadence to render a harmonious scheme for fetes of any kind, from private dinners to holiday soirees and fanciful celebrations.
2020 has been quite a challenging year, not only as far as the way people were obliged to celebrate but in means of having to adapt our dreams to the demanding new realities. This meant having significantly more time to focus on the essentials, but also get more cognizant of the beauty around us waiting to be discovered.
Creating hyper-personalized affairs and curating the perfect setting for experiences and new beginnings to be enjoyed has been on my mind throughout the season and this autumn felt like the best moment to elaborate on these thoughts. With 2021, the year of Intentionality just around the bend I wanted to craft something special that would not necessarily apply to weddings, but the entire idea of celebration; as in having a ball, with friends, with family, with our loved one, no matter what the occasion, to hallow in colors and textures, in compositions and in feeling. That is how the idea of The Bloom Menagerie was born.
To this end, I contacted Maria Voudouri. Her sophisticated creations pair with my idea that for the coming year color will be the new white. As I wished to bolster her creativity I gave Maria carte blanche in creating 9 different floral centerpieces and two elaborate floral bouquets that can easily set the tone for every affair, be it a family home fiesta, a holiday private blowout, a luncheon with friends or a special day bash. Manousenia design joined the team to add to our special touches and the Bloom Menagerie started coming together.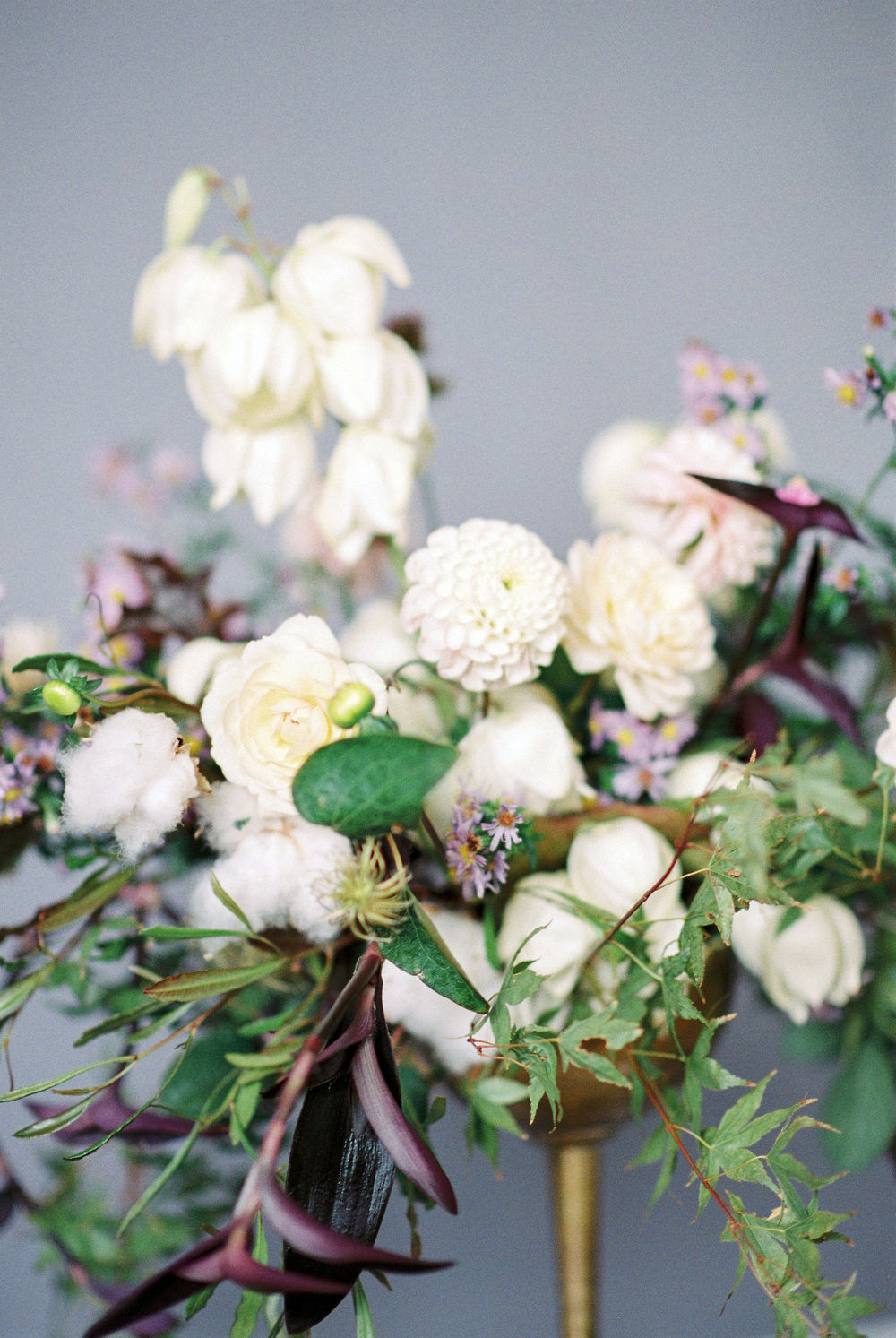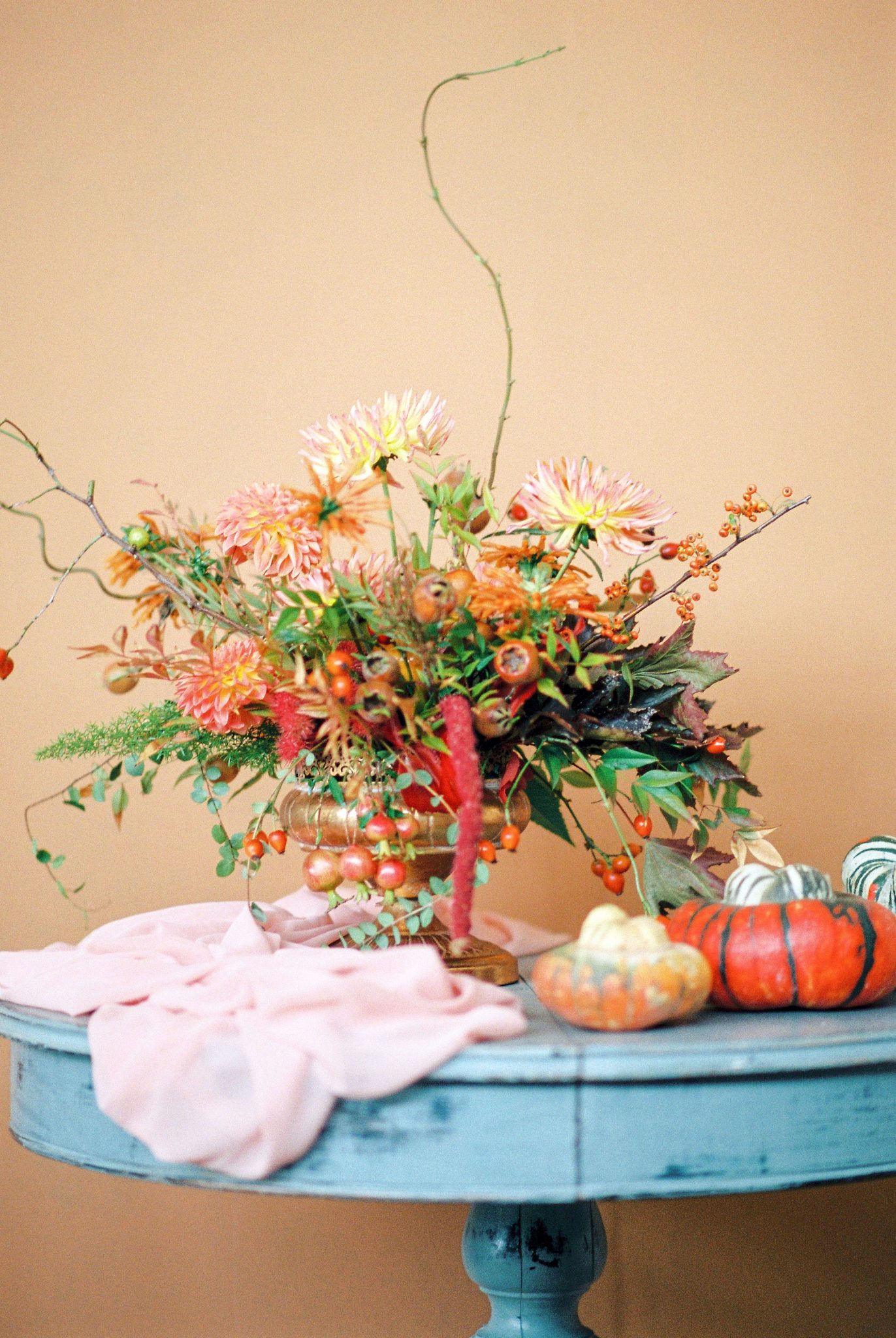 Pompon Dahlia, Cactus Dahlia, Amaranthus, Pomegranates, Acer crimson king and Rosehips were placed inside a copper-hued urn topped with pumpkins to celebrate the plethora autumnal vegetation brings about, while Pompon Dahlia, David Austin roses, Nandina Domestica, Aster Tataricus and Acer palmatum alluded to the sober classics of a refined indoor fete.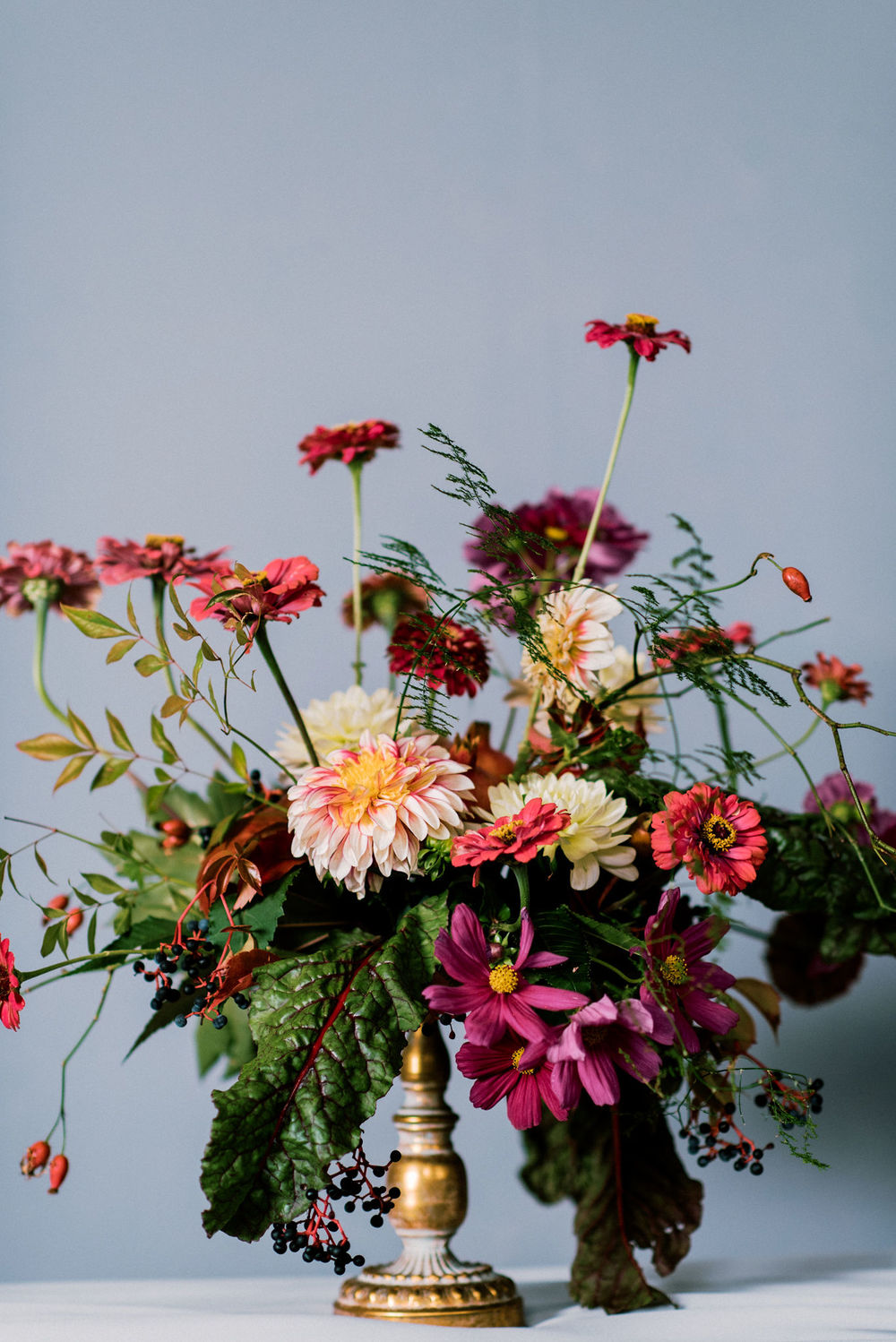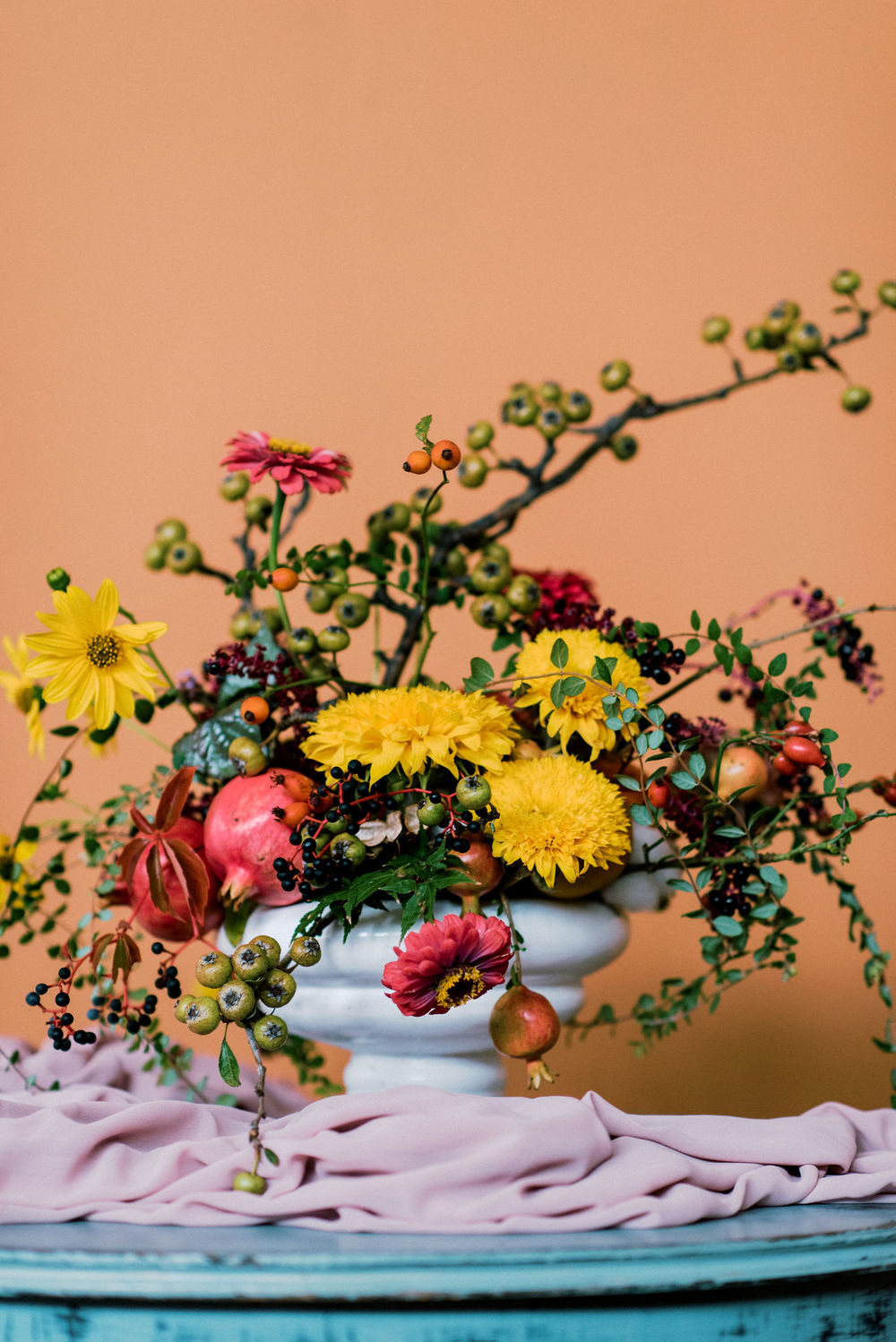 With an exuberant mind towards olfactory experiences Maria put together Helianthus tuberosus, Helianthus annuus, Zinnia, Rosehips, and Pomegranates whilst adding to the festive pre-spring spirit with a centerpiece made up of Anemone Dahlias, Cosmos, Rosehips, Nandina Domestica, and Asparagus setaceus. Their heady yet fresh and green scent was delicately nuanced with fruity, milky notes.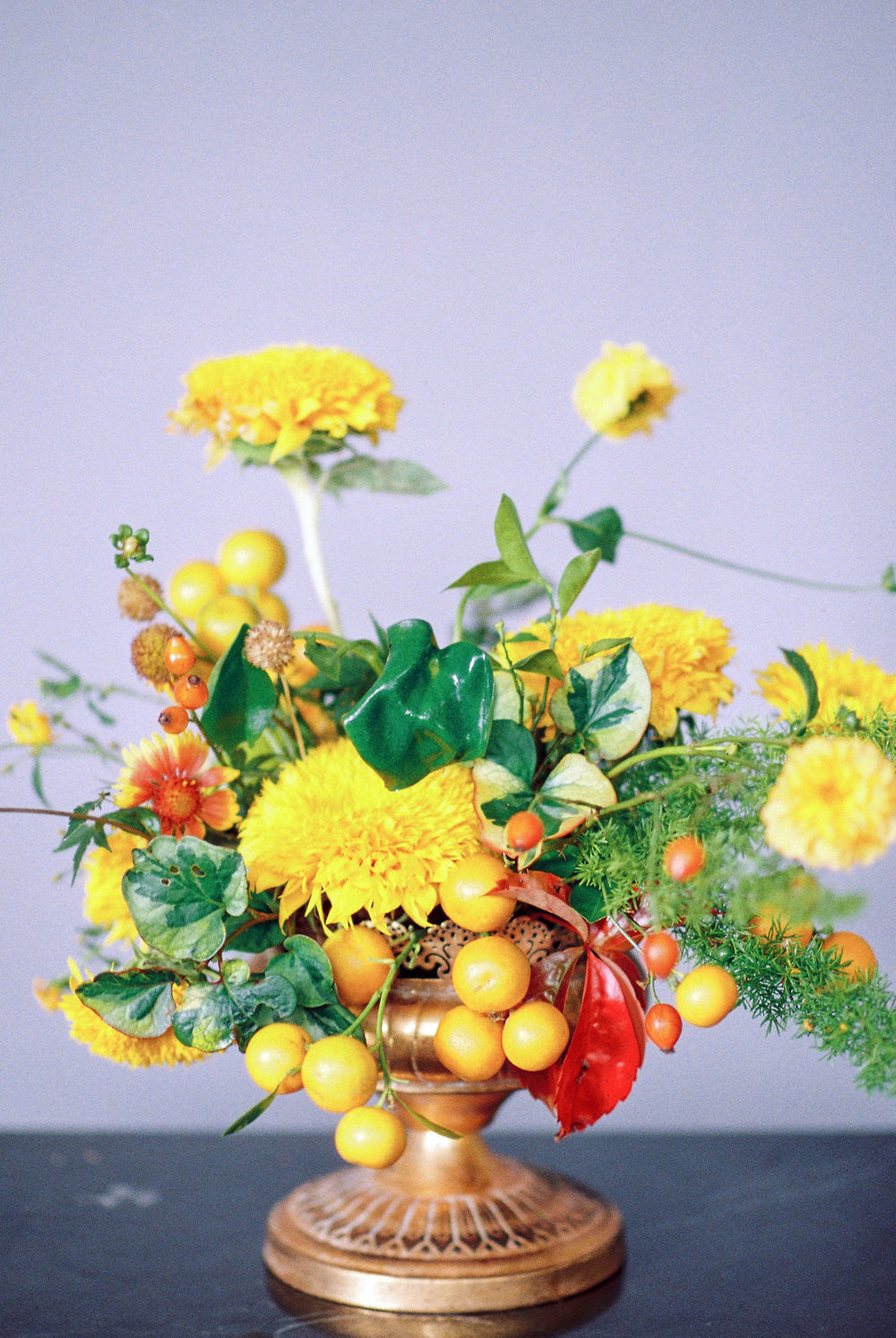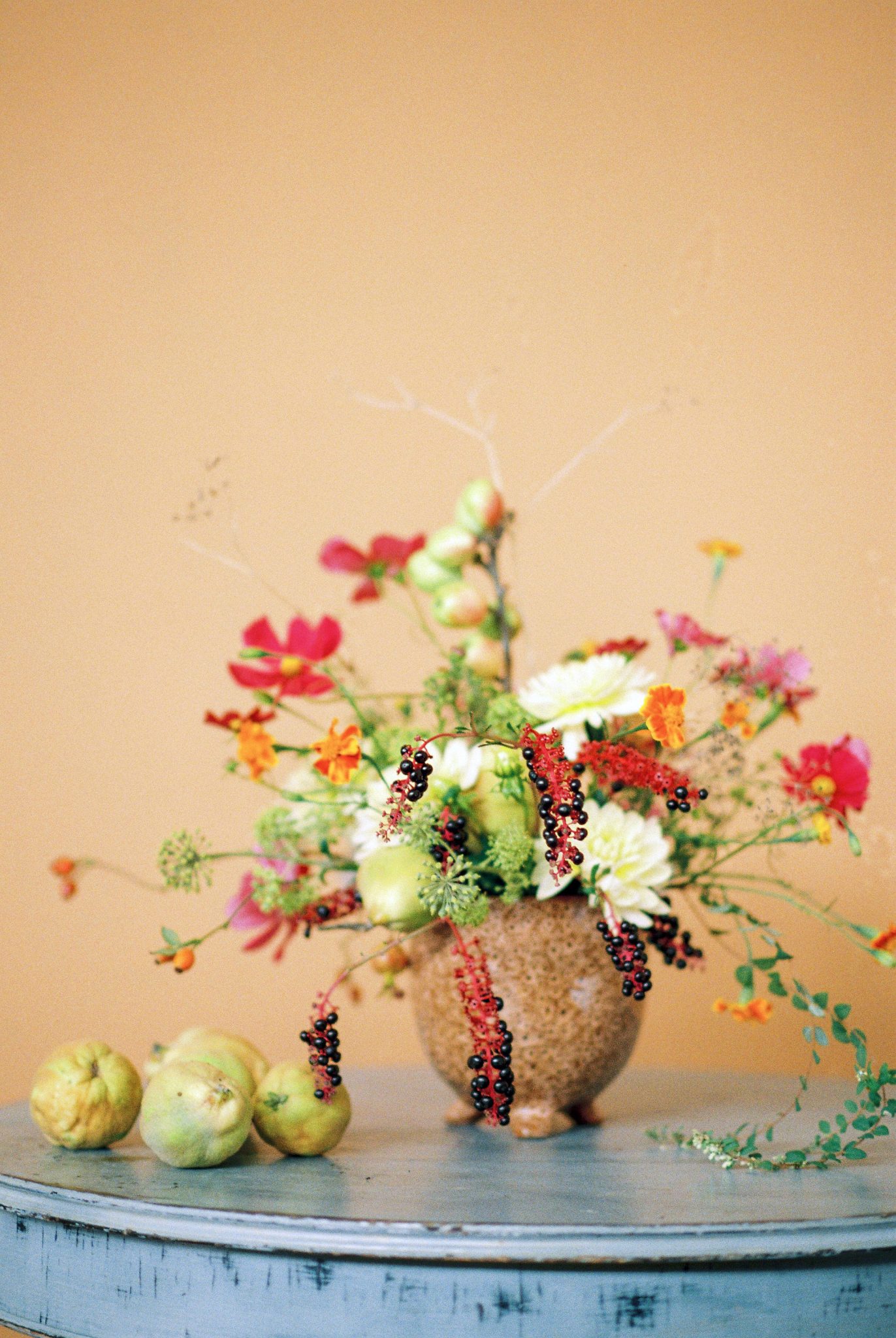 Painterly Decorative Dahlias, Tagetes erecta, Cosmos, Malus Domestica, and Ammi majus melded with quinces to give freshness a sensual twist. Pompon Dahlias, Citrus calamondin, Asparagus Dens. "Meyers", Helianthus annuus and Rudbeckia became a nod to the bright auburn autumnal sunsets and our cozy nights by the fire.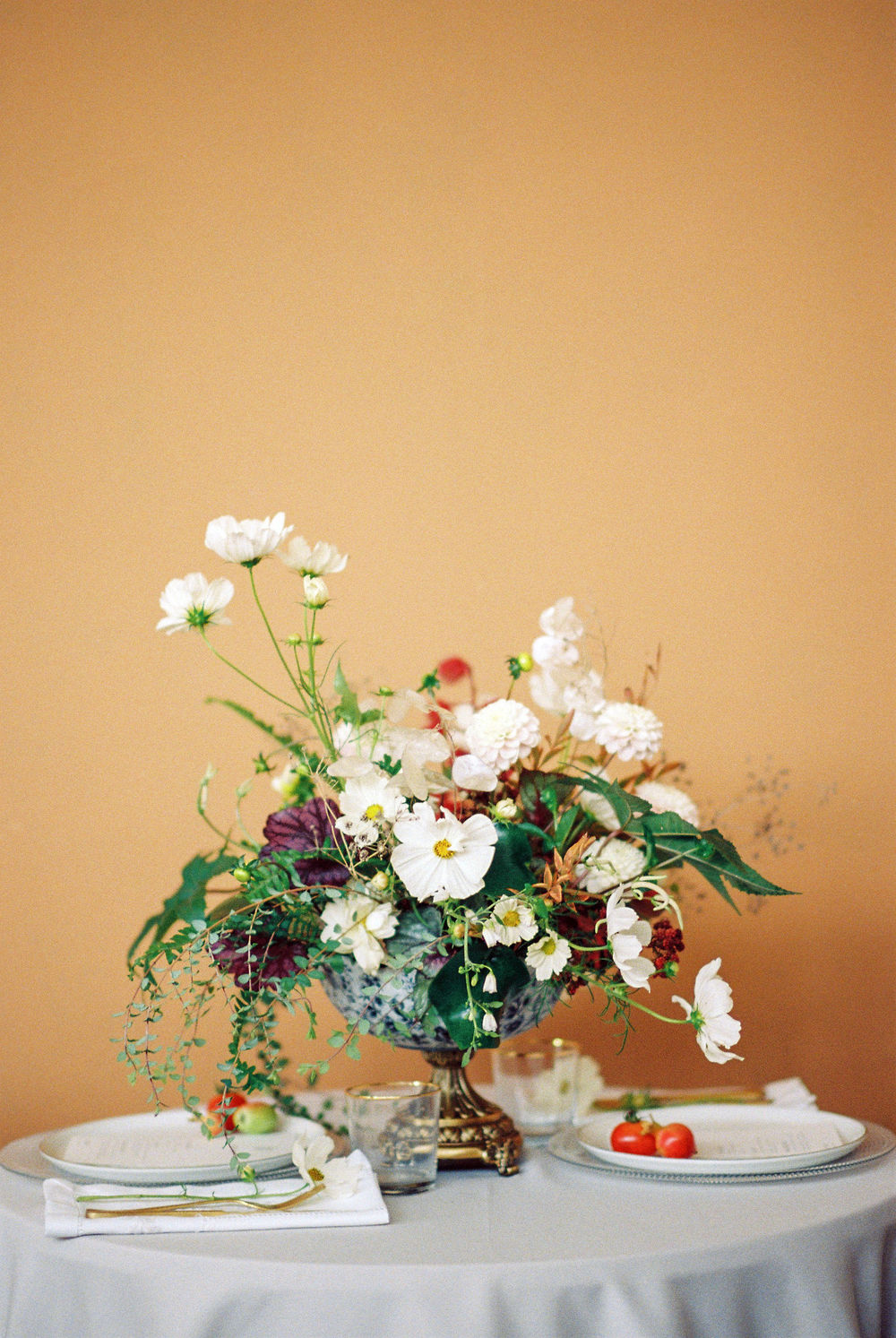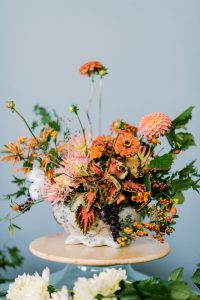 If Dutch Masters were to paint a centerpiece that would be a Delft vase topped with Zinnia, Cactus Dahlias, Tagetes erecta, Acer palmatu, and Gossypium hirsutism (cotton buds) or a stately city dinner iron pot complete with Cosmos, Pompon Dahlias, Lunaria, Nandina Domestica, and Rubus idaeus.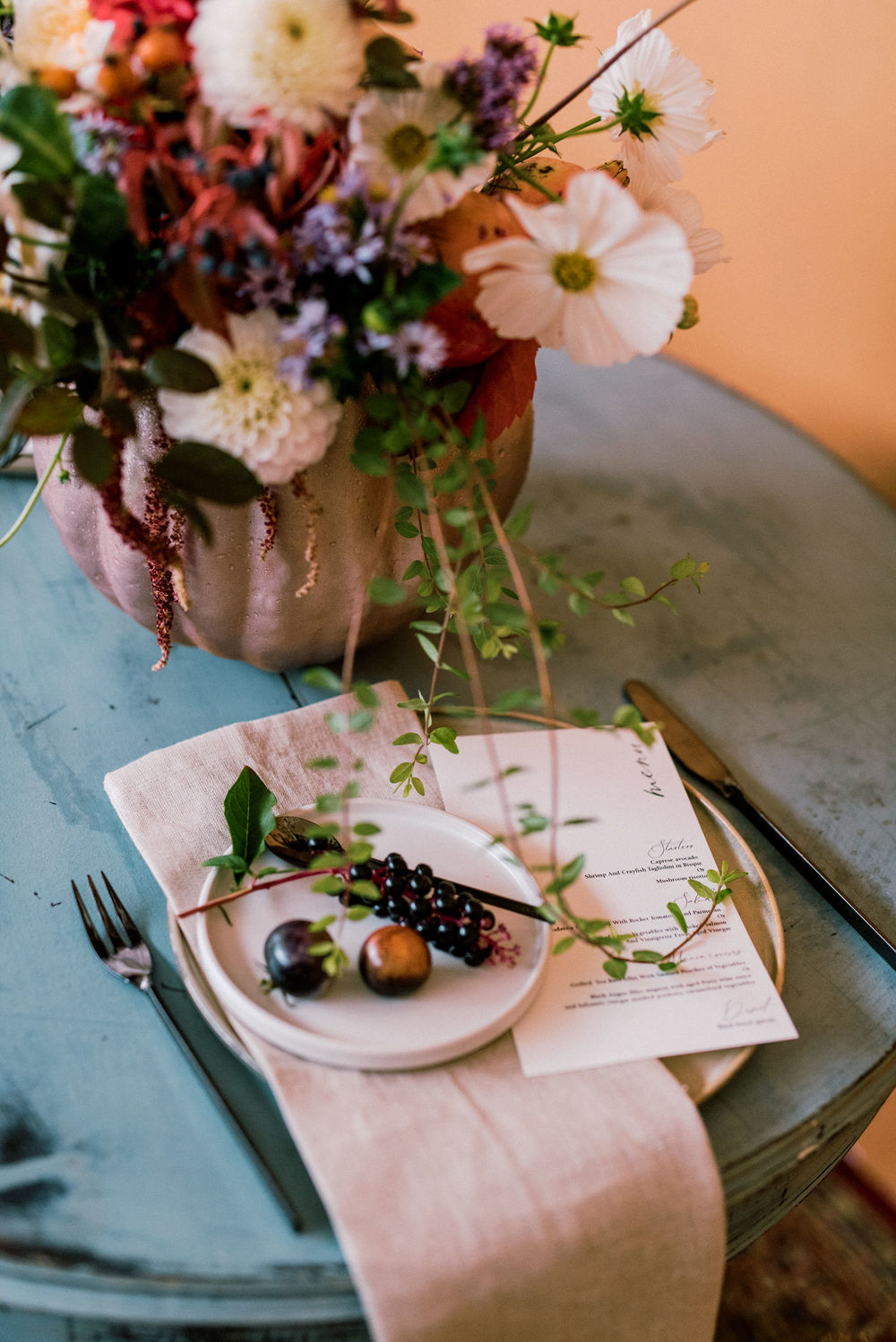 Finally, our cottage-style arrangement emerging from a dried-pumpkin-vase called for David Austin roses, Pompon Dahlias, Asparagus setaceus, Rosehips, and Amaranthus.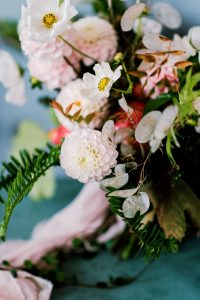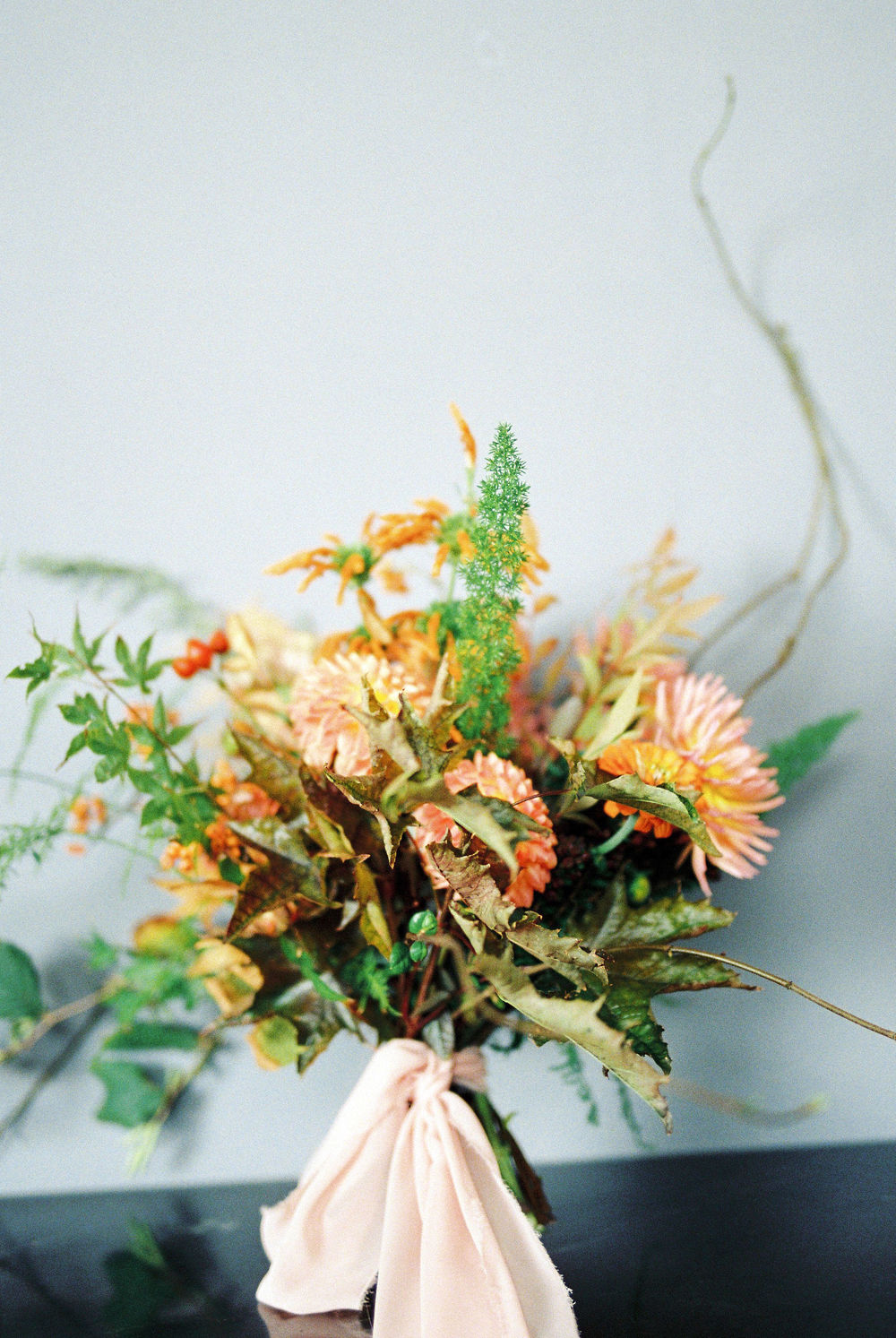 Αs centerpieces are not the only florals to crown a celebration, Maria combined blooms and spores from these arrangements to craft two different bouquets, one where classical whites turned bright with pops of color and a playful one combining shades of orange and pink. Manousenia apart from the elegant paper letterpressed menus also helped us create a floral compendium with selected seeds, fruit, and buds to add a stylish and creative nod to artificial wallpaper serving as a unique séparé that can be employed to divide a living room space while hosting.
Last but not least, our linens and flatware were kept minimally chic as we did not wish to shift attention from the original idea that people can go bigger in smaller ways making a statement with their intentional concept and seasonality showcased here through edibles and flowers. To warm up the atmosphere we opted for fig candle stick carrying a fragrance of trees mingled with delicate fruity accents. It is a scent common across Mediterranean home gardens and therefore a perfect match to our scheme.
I am grateful for the team of vendors who helped me with this projet
Wedding planning, design & styling: Phaedra Liakou
Photographer: Lefteris Kalampokas
Flowers: Maria Voudouri
Stationery: Manousenia Design
All my love and my warmest thougts for a Happy New Year Phaedra